BlueDevil 2.0 RC1, (a.k.a BlueZ5 ready)
After months of discontinued work we are happy to announce BlueDevil 2.0 !
The 2.0 version brings the same experience we can find in the 1.X series but using the new BlueZ5 stack which at least on our testing improves a lot the general stability and specially on sending/receiving/sharing files via Bluetooth.
In this major version we have focused on rapidly adopting the new technology so we don't have many changes visible to the user, we have added though a few things we hope you will like.
All parts of BlueDevil are now more aware of multiple adapters, wizard, bluetooth:// (kio) and system tray are some examples.
[caption id="" align="aligncenter" width="296"]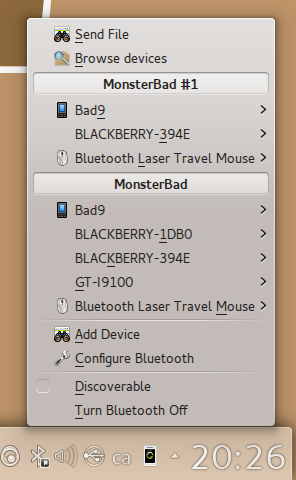 BlueDevil 2.0 System Tray[/caption]
The Wizard is now more intelligent than before, it will connect to the right profile automatically making the setup of Mouse, Keyboard and Headsets more pleasant.
Testing
We need a lot of testing! This is major change for BlueDevil and even though we have done our best to make sure the first release is free of bugs it will be a miracle if that's true!
Fill bugs at http://bugs.kde.org under Solid/bluetooth version 2.0-rc1, it is important that you set the version since 2.X bugs will be given more priority.
Finally I'd like to thank Daniel Schaal who did most of the work in libbluedevil and ported other bits in the applications.
Downloads:
As always you can find the tarballs in http://downloads.kde.org (bluedevil, and libbluedevil).